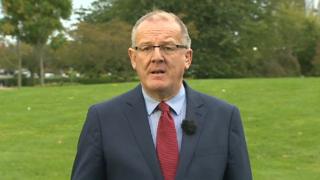 Attacks on Welsh can be compared to Islamophobia and anti-Semitism, the Welsh language commissioner has said.
Aled Roberts was reacting to a tweet by comedian Omid Djalili, which upset some Twitter users in Wales.
The comic posted a picture of a sign for the National Botanic Gardens of Wales, bearing the translation Gardd Fotaneg Genedlaethol.
He tweeted: "There are worse things than being Welsh, dyslexic & having a terrible stutter. But not many."
Mr Roberts told Welsh language news programme Newyddion 9 he had seen an increase in anti-Welsh language sentiment.
"If we talk about Islamophobia, if we talk about anti-Semitism, it is the same kind of issue that society has to deal with," he said.
"As a Welsh speaker I didn't find it particularly funny."
But the Muslim Council of Wales said that while it shared Mr Roberts's concerns about "denigration and prejudice" directed towards the Welsh language, "comparisons to Islamophobia and other forms of discrimination are often unhelpful and misleading".
A spokesman added: "It is wiser to recognise the specific histories and experiences of inequality in order to better challenge them."

The tweet by 53-year-old Londoner Djalili sparked a barrage of responses.
Some Twitter users were critical of his post, but others defended the comedian, who was born to Iranian parents.
Heledd ap Gwynfor tweeted: "There are worse things than being English, ignorant & having a terrible sense of bigotry. But not many."
OnlyOneCardiffCity posted: "Message to the far-too-easily-offended-of-Twitter. Learn to take a joke. Embarrassing babies."
Asked whether people who were critical of the tweet should go and see Djalili perform, Mr Roberts said: "Clearly he hasn't apologised so I for one certainly wouldn't be going to any show – but he might think I'm not a great loss anyway."
Djalili's joke followed a gig he played on 29 June at Treorchy's Park and Dare Theatre.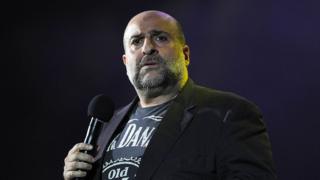 Read more: https://www.bbc.co.uk/news/uk-wales-48870846
Comments
comments