Today's Agenda
Everything you need to know about Trump's Singapore summit
The year in megadeals
The perilous quest for the perfect Fed rate
Deep dive: China's master plan for global domination
ICYM
AT&T can buy Time Warner after all. Seems Trump adviser Peter Navarro didn't actually want the prime minister of Canada to go to Hell. Burger King joined the fun of roasting IHOP(B). Theresa May won. Or lost? Who can really say? Tesla cut jobs.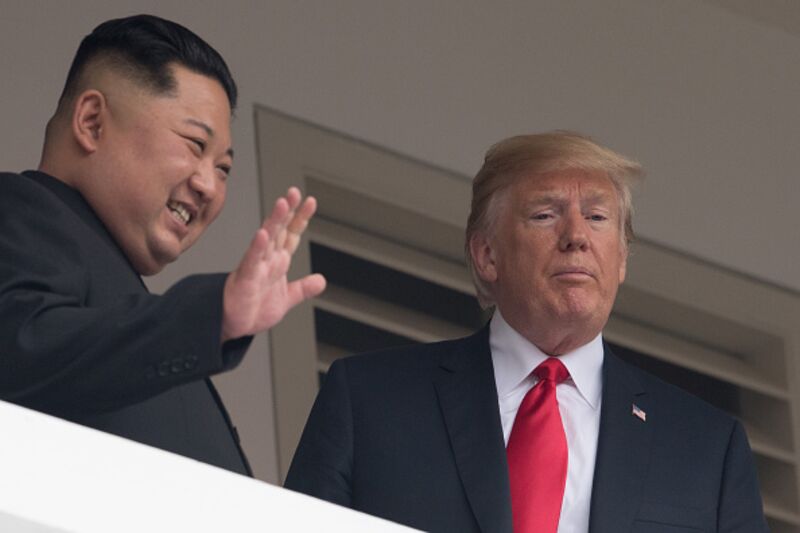 A Funny Thing Happened on the Way to the Sea of Fire
Here's a Hot Take: War is bad, and peace is good. 
President Donald Trump's Singapore sit-down with Kim Jong Un has at the very least delayed war with North Korea, and that is good. But delaying war is not the same as preventing it, and not all delaying measures are good (see the Missouri Compromise, Dredd Scott decision, etc.). The general consensus is that Trump gave Kim and China too much – effusive praise, military-exercise suspension, frequent back-pats – and got little in return.
Bloomberg's editors, for example, assert that other presidents have achieved more  having to glad-hand a member of the murderous Kim family. And now U.S. leverage is fading.
Yes, the decades-old playbook for North Korea had failed, and maybe Trump was right to toss it. But Kim and China know Trump is so hungry for disruptive deal-making that he might also toss the decades-old security strategy keeping the U.S. and its Pacific allies safe, warns Michael Schuman. 
Eli Lake suggests Trump's summit was really just "the same formula that American presidents have tried since Bill Clinton: your nukes for your regime." But Trump made matters worse by legitimizing and maybe further cementing that terrible regime in place.
Singapore wasn't all for nothing. Kim has released some prisoners and promised to return the bodies of American war dead – not to mention the whole "peace is good" thing. Leonid Bershidsky says such gains are worth whatever price Trump paid. And South Koreans are reportedly more optimistic, trusting neither Trump nor Kim, but also hoping their unlikely combination could end decades of hostility and fear. 
But there's nothing in Trump's history, or Kim's, to justify too much hope of steady progress toward lasting peace.
Bonus Summit Reading: Trump might get an approval-polling boost from all of this. But history shows those tend to fade quickly, warns Al Hunt. Just ask two-term President George H.W. Bush, who only ousted Saddam Hussein from Kuwait and successfully navigated the end of the Cold War.
Megadeal Overload
Medical-device maker Stryker Corp. has reportedly offered roughly $60 billion (including debt) to buy Boston Scientific Corp. And that ridiculously large sum would only be the third-largest announced this year, points out Brooke Sutherland. (The year's biggest deal, Takeda Pharmaceutical Co.'s $80 billion offer for Shire PLC, might yet get even bigger, writes Chris Hughes.) It would also put us on pace for a record number of "megadeals" – those worth $10 billion or more: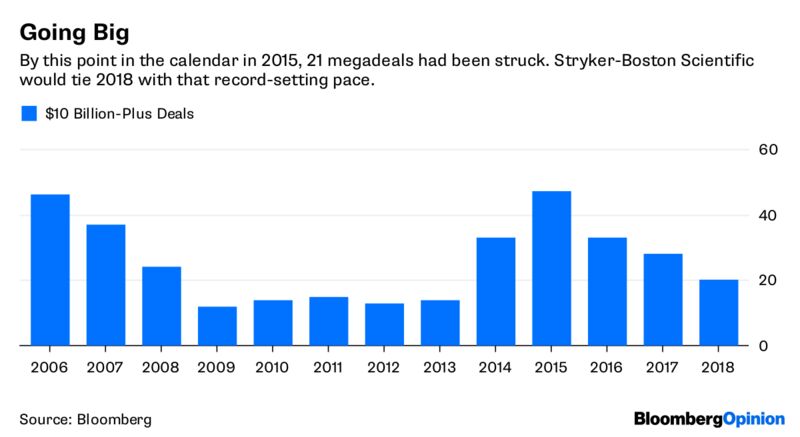 Executives and bankers typically claim such deals solve problems and create opportunities. But often they're just applying comically large, county-fair sledgehammers to problems better solved with a scalpel, writes Brooke. 
Lost in the Amazon
Yesterday, we mentioned how not much had changed at Whole Foods since Amazon.com Inc. bought it a year ago. Today, Shira Ovide points out one big reason for this: Amazon's grocery strategy is still a big honking mess: 
"If a Prime subscriber in Dallas wants a pound of Whole Foods brand butter delivered, he could order it from Whole Foods and an Amazon courier would bring it to his door. In Boulder, Colorado, where Amazon doesn't have its own delivery option, the butter buyer is directed to set up an account with Instacart Inc., a food-delivery startup that had a partnership with the pre-Amazon Whole Foods. In Philadelphia, shoppers can have the same item delivered from Whole Foods or from AmazonFresh, the company's decade-old grocery delivery service that hasn't found its footing. In New York, shoppers can buy a couple dozen butters (just not the Whole Foods brand) from PrimeNow, Amazon's one-or-two-hour delivery service on select items."
Got it? 
No More Fed-By-Numbers
In tomorrow's meeting, Federal Reserve policy makers will probably raise their target short-term interest rate to 2 percent – a long way from the zero-percent rate that prevailed from the financial crisis until the end of 2015. Unfortunately, the easy part of the Fed's post-crisis job is over, write Bloomberg's editors. Now it has to figure out what the "neutral rate" of interest is – the one that neither stimulates nor hurts the economy. Good luck with that.
Repaving the Silk Road
In part three of Hal Brands's series on China's rise as a global superpower, he looks at how China is leading new institutions to counterbalance Western influence. This comes after decades of avoiding or taking back-seat roles in such Western economic engines as the World Bank and IMF. Here is a very impressive chart of one such effort: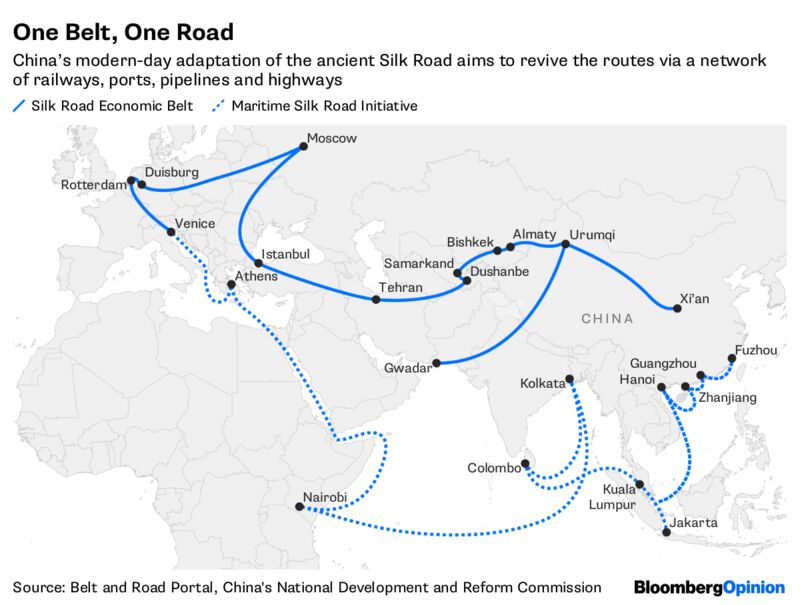 Chart Attack
Brexit has been a disaster for British stocks, writes Chris Hughes.
Speed Round
Foreign money managers want to manage money in China. It won't be easy. – Nisha Gopalan
China has not had a used-car market, but that's changing – a good thing for the environment. – Adam Minter
The new finance minister of Italy has a  surprisingly chummy relationship with Germany's finance minister. It could save the euro zone. – Ferdinando Giugliano
States, not the federal government, should control pot enforcement. – Ramesh Ponnuru
The purpose of the corporation isn't lobbying. – Justin Fox
Kickers
If nothing else, the Trump-Kim summit at least gave us this video.
Liking sportz can be about so much more than just getting drunk and cheering for laundry: A national sports team's success can heal ethnic divides, writes Cass Sunstein. Too bad the U.S. blew its chance to be in the World Cup.
Speaking of the World Cup, here are FiveThirtyEight's previews of Group D (starring Argentina) and Group E (starring Brazil).
Plate tectonics may be essential for the evolution of complex life. (h/t Barry Ritholtz's newsletter)
Note: Please send suggestions and kicker ideas to Mark Gongloff at [email protected]
***
New subscribers can sign up here. 
Like Bloomberg Opinion Today? Subscribe to Bloomberg All Access and get much, much more. You'll receive our unmatched global news coverage and two in-depth daily newsletters, The Bloomberg Open and The Bloomberg Close.
To contact the editor responsible for this story:
Mike Nizza at [email protected]
Read more: https://www.bloomberg.com/view/articles/2018-06-12/trump-kim-summit-giving-away-the-store
Comments
comments