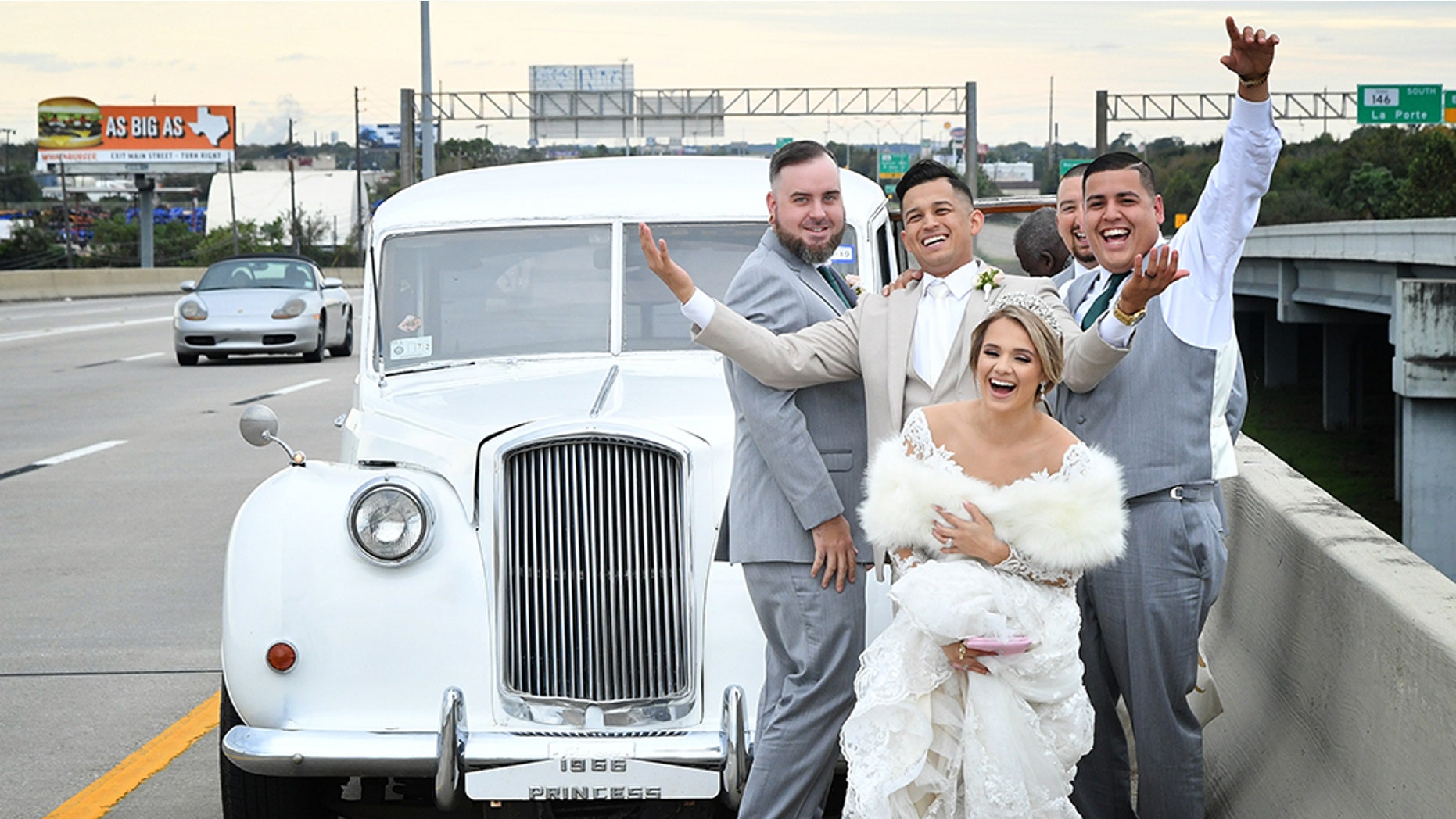 A newlywed couple's car broke down on their way to the reception and they ended up with this funny picture to remember the moment.
(Tomas Ramos )
A newlywed couple in Texas had a small setback on their wedding day that led to a unique photo — plus moments they'll never forget.
Jake and Amber Garcia were driving to their reception in Houston in a vintage white car when they had a mechanical issue, causing them to break down on the side of the highway. They ended up having to call for backup, getting the wedding party to come rescue them, KTRK-TV reported.
NEWLYWEDS BEG THIEF TO RETURN WEDDING DRESS STOLEN FROM CAR
While they were all standing on the edge of the road huddled around the vehicle, their wedding photographer, Tomas Ramos, snapped a picture of the funny moment.
"That one time when [your're] calling your bridal party to come rescue us because our 1966 princess car decided to break down on us on our way to the dance hall. It was only right for our photographer to take a shot at this. Talk about a memory we will ALWAYS remember," Amber wrote on Facebook.
The unlikely group, smiling big in their formal attire, appear to be having a great time and didn't let the setback ruin their day.
Amber also wrote on Facebook that everyone was "laughing so hard because everything was going so perfect."
"We definitely weren't upset with what [happened]! Things happen and we continued on," she added.
Someone else noted that the way the couple handled the situation is indicative of how they handle life together.
"Your positive attitude on this negative situation speaks volumes on how you and Jake will roll with the punches in your marriage. Many things will be out of your control but how you deal with it as a couple will determine the true strength of your marriage," one person wrote.
Read more: https://www.foxnews.com/lifestyle/newlyweds-photographed-on-highway-after-car-breaks-down-heading-to-reception
Comments
comments