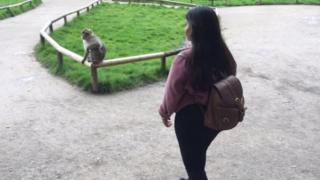 How close is too close to get to a monkey? As one Twitter user found out, it's really better to keep your distance.
A series of photographs of a woman's encounter with a Barbary macaque has been retweeted over 41,000 times and gained 70,000 likes.
All she wanted was "to get a picture with a monkey".
However, Trentham Monkey Forest, near Stoke-on-Trent, where the incident happened, does warn all its visitors to experience the "natural behaviour" of the animals while not getting too close to them.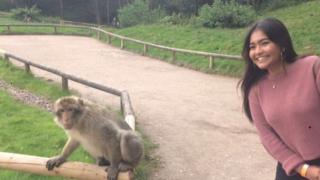 Karima Nabi, from Birmingham, was visiting the park with her sister over the weekend. She approached the macaque for a photo, but it turned and ran after her.
Speaking to the BBC, Karima said as the monkey lurched towards her she "ran for about 10 seconds and it finally stopped chasing me."
"Next thing I know, a worker came up to us and asked if we were alright and told us to be careful and to stay one metre away next time."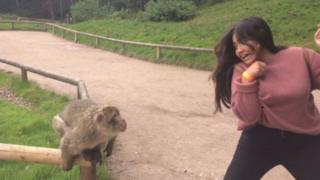 Matt Lovall, Park Director at Trentham Monkey Forest, explained some of the body language displayed in the images.
Leaning back, as seen in the second image, is a behaviour often displayed when macaques feel threatened.
While curling their lips into an 'o' shape, as above, is a clear warning to rivals.
Mr Lovatt added visitors to the park are asked to keep at least one metre away from the monkeys at all times, and "this particular visitor may not have followed that rule."
Trentham Monkey Forest were keen to stress interactions like the one Karima had with this monkey are very rare at the park.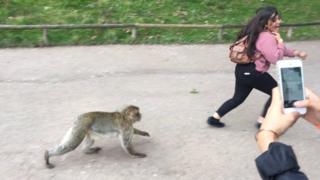 You may also like:
Karima said the reaction to the photos online has been "overwhelming" and she is glad she "can make a few people laugh."
Across social media networks such as Twitter and Reddit's Instant Regret section, "a few people" has turned into thousands.
However, becoming the subject of a meme is perhaps the surest sign Karima and the monkey are a social media hit.
While on Reddit, one user questioned the photographer's choice to continue snapping rather than go to Karima's aid.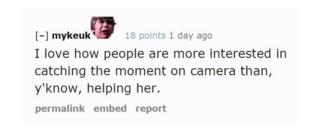 Reflecting on the experience, Karima said, "It was terrifying when it chased me but I have zero regrets. I'm glad it happened now!"
By George Pierpoint, UGC and Social News team
Read more: http://www.bbc.co.uk/news/uk-41030289
Comments
comments