An 8-year-old Chinese student dubbed "Ice Boy" went viral on Monday after a picture of his frozen hair captured hearts across the world.
After walking 4.5 kilometers (2.8 miles) in -10°C (14°F) weather to make it to the first day of his final exam period, Wang Fuman (affectionately known as "Little Wang") was left with a head full of icicles and blistery-red hands and cheeks.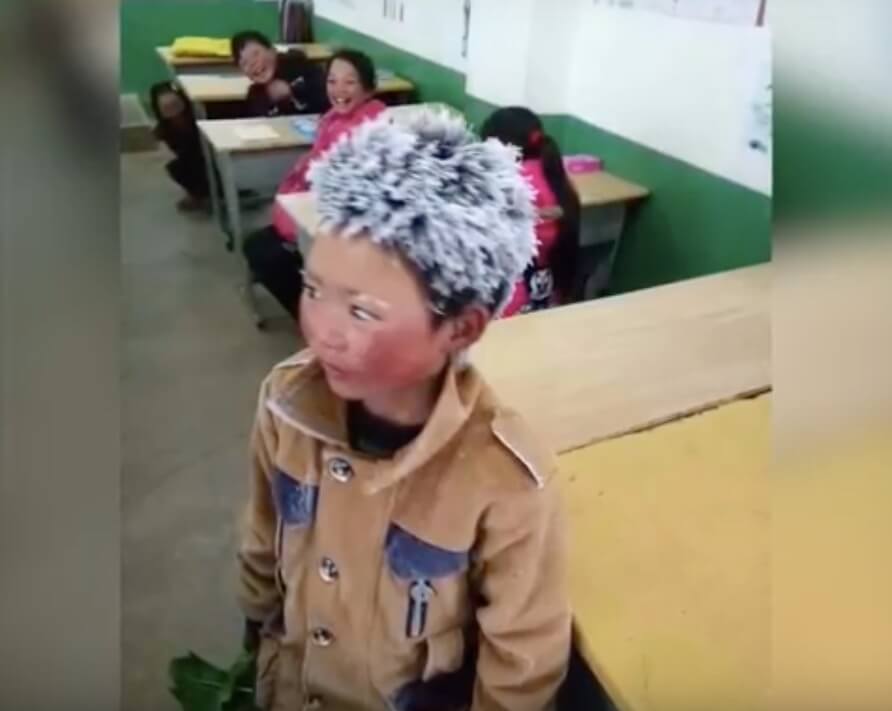 And that wasn't the only time. According to his school headmaster, it's the frigid trek this brave 8-year-old makes every day in hopes of bettering his life through education.
The photo taken at a school in Ludian County in the northeastern Yunnan Province has generated an Internet outcry for the plight of China's millions of "left-behind" children just like Little Wang.
The boy currently lives with his grandma and sister in a rundown home, while his parents have left to the city to find work—but one thing you won't find this standout student doing is complaining.
"Going to school is cold, but it's not too hard," he says.
On top of being a star student, Little Wang is also known for being a class clown. Amidst his frighteningly painful physical condition, he made a funny face to make the class laugh, which is why his peers in the background of his viral picture are painted with cheerful grins.
Many commenters also took note of the test score stamped on the picture of his frost-bitten hands: 99%. It even inspired one woman to create a caricature of China's new favorite 8-year-old.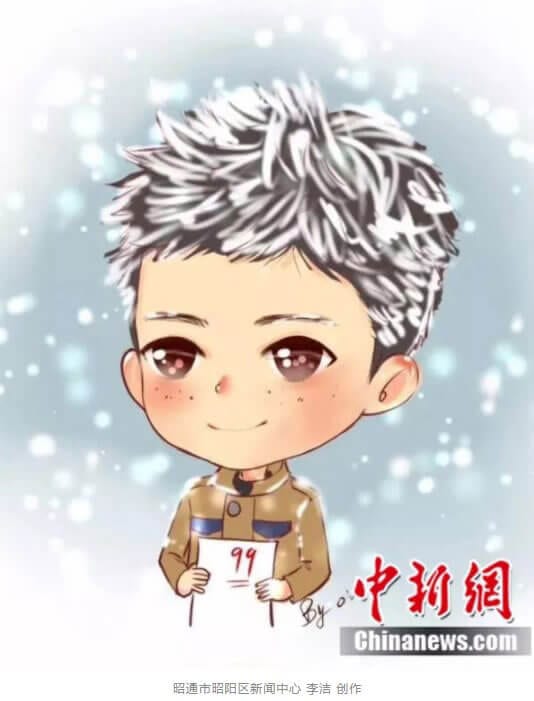 "Kid, the bitterness you endure now will shine a light for your path ahead," wrote another Weibo user.
On top of being a hard worker at school, Little Wang is equally dedicated to his work at home, where he regularly helps his grandma on the family farm. As far as life aspirations, he hopes to be a cop when he grows up so he can "help catch bad people." He also desires to make it to Beijing someday, so he can see how the students in the city study.
While the web has praised the "Ice Boy" for his admirable dedication, they've equally lashed out at the Chinese government, questioning why they haven't done more to help "left behind" kids like him. Many have also inquired about how they can offer help.
In response, a government official suggested that those interested may donate winter clothes to impoverished children in the area by sending them to this address provided by Weibo users:
Yunnan Province, Zhaotong City, Ludian County, Xinjie Town, Zhuanshanbao Primary School" (南省昭通市鲁甸县新街镇转山包小学). Postal Code (邮编): 657100.
See more snapshots of the life of Little Wang at NetEase, and click here to learn more about how you can play a role in giving hope to China's left-behind children just like him.
Read more: https://faithit.com/ice-boy-china-poverty-left-behind-children/
Comments
comments