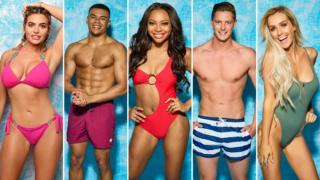 We're six weeks in, there's been more than 30 contestants and at least 50,000 mentions of the word "loyal".
But as Love Island continues to keep us hooked there's been an uncomfortable conversation around the show.
It's all about diversity.
Some fans have continually questioned why the majority of the cast appear to look the same.
Leigh-Ann Pinnock from Little Mix waded in on the debate saying she was tempted to switch off because of its lack of diversity.
Love Island says it's committed to diversity, but Newsbeat has been taking a look at the debate so far.
'Where are the south Asian women?'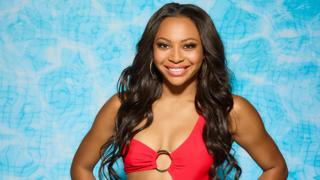 More than 85,000 people applied for Love Island this year.
With such a huge number of singletons to choose from, some fans have questioned why the majority of the contestants picked for the villa have been white.
Viewers especially criticised the show for a lack of diversity when 12 new contestants arrived on 28 June.
Some felt producers had missed an opportunity to bring people into Love Island who represent a range of ethnicities.

Paula Akpan, director of the Black Girl Festival and social media editor at Gal-Dem, says racial diversity on Love Island is "severely lacking".
"How can you have no south Asian women on the show?" she says.
"I think if they're seeking to represent the nation or seeking to showcase the different people who generally fall in love or date one another, then Love Island needs to be casting the net wider and it needs to be something that they think about more going forward."
Figures from the 2011 census show 14% of the population in England and Wales have an ethnic minority background.
The debate around race and diversity in Love Island has very much focused on contestant Samira – who walked out of the show on Thursday.
She struggled to find love in the villa and when six new men showed up – not one chose her in the top three women they were attracted to.
In contrast, some of the female contestants have described their type as "mixed-race men".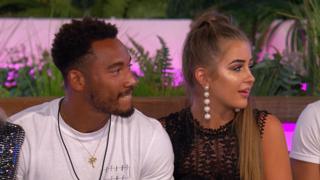 Paula says Samira's experience is a reflection of what dating is like for some black women and is a "difficult watch".
"It's very real for every black woman watching it because it's something that you become quite used to, especially when you're in white-dominated spaces.
"You often know that you won't be seen as a person who's attractive especially when you're compared to other beautiful women on the show who embody the Eurocentric ideals."
Last Tuesday, new singleton Idris entered the villa – but some viewers thought it was a cynical attempt by producers to address an issue that's been around for weeks.
'The granny'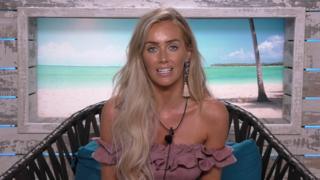 Do you need to be under 30 to fall in love?
That's what some fans of the show might think – with the average age of this year's contestants being 24.
Laura is the oldest contestant at 29 and her age has been a big talking point both inside and outside the villa.
She originally coupled-up with 20-year-old Wes and the fact she was older than him was massively talked about.
When contestant Megan, 24, told Wes she also fancied him – Megan pointed out the age gap between Laura and Wes.
She told him: "I feel like she's a lot older and she said earlier she's in here looking for a husband. To me – you're 20, you're so much fun and I just wanted to know where your head was at."
On social media, there's been some negative comments and jokes made about Laura's age.

Blogger Kat Rayment , 29, has discussed Love Island on the podcast The Prosecco Sessions and says the negativity around Laura's age is "unfair".
"She's a good looking, attractive young woman so why she can't be in the house and be meeting people that are younger than her? I don't see what the issue is and why people feel the need to be so negative to her."
Kat believes the lack of age diversity in Love Island is "alienating older women" and isn't the "right message to be putting across to the nation".
She feels the producers should've brought more contestants into the villa who are in their late 20s or early 30s.
"Different ages make it more interesting, more diverse within the house and then it means you can meet people of different ages that might be better suited to you.
"It shouldn't just be about being in your 20s and being young, it should be any age really that are looking for love."
Where are the curves?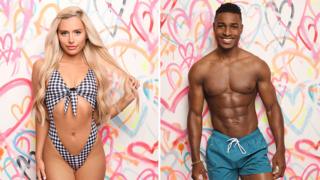 2018 has been the year where body diversity has had more focus – with some brands scrapping airbrushing and promoting bodies of all shapes and sizes.
But perhaps Love Island producers didn't get the message.
Pretty much all of the men on this year's show have six-packs while the girls have toned, slim bodies.
Some fans have questioned why there are no dad-bods or curves in the villa and raised concerns about the way it might make some viewers feel about their image.

Liam Barnes, 29, from Gloucester, says watching Love Island hasn't made him feel good about how he looks.
"It's as if the contestants went to the audition and they spoke about themselves and producers went 'Right, what do you look like underneath your clothes?'
"I'm sure thousands of people applied and auditioned for the show but my feeling is because they didn't have that certain body type or that certain look they didn't get through, which is a bit sad really."
And while he accepts it's a reality TV show there for entertainment he says the lack of diversity "doesn't feel right in the 21st century".
"I've spoken to friends about it and how we've all felt inadequate after watching and one jokingly said there should be a 'Chub Island' for us normies.
"As funny as it was, after a while once you think about it, that shouldn't be the case."
Real life or just a show?
There has been some defence of Love Island's lack of representation.
Some fans have pointed out that it's a constructed reality TV show based on "superficial beauty" and suggest it's not its job to reflect society.
Psychologist Emma Kenny says Love Island isn't necessarily set up to represent a diverse society.
"That's not to say that it shouldn't be diverse, it's a very shallow programme.
"While it's got to have depth regarding some of the relationships, for the most part it's about the body beautiful."
Emma says while there's been criticism of Love Island producers for the lack of diversity, there's the argument that the show is giving its viewers what they want.
And she says that gives her "a far deeper concern".
"It suggests that our communities are not accepting potentially of the diversity that our country offers."
A spokesperson for Love Island told Newsbeat: "When casting for Love Island, we always strive to reflect the age, experiences and diversity of our audience and this year is no exception with a cross section of different personalities and backgrounds in the villa."
Follow Newsbeat on Instagram, Facebook and Twitter.
Listen to Newsbeat live at 12:45 and 17:45 every weekday on BBC Radio 1 and 1Xtra – if you miss us you can listen back here.
Read more: http://www.bbc.co.uk/news/newsbeat-44686074
Comments
comments